NO, the actor, William Shaksper (1564-1616), born in Stratford-on-Avon – never once in his life claimed to be the author of the Shakespearian works. He never claimed authorship and nobody did so on his behalf, that is not until 1623. No documents, written in his handwriting have survived the passage of time. There are however six documents in existence bearing his signature, witnessing that he was an actor and part owner of a theatre. His most challenging role as an actor appears to be the "Ghost of Hamlet's Father."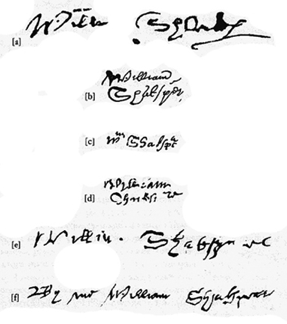 The actor, money lender and businessman William Shaksper was used as a marionette after his death in order to prevent people from coming to the conclusion that The Lord Great Chamberlain Edward de Vere 17th Earl of Oxford was the true author of the work published by Thomas Thorpe in 1609: "SHAKE-SPEARE'S SONNETS".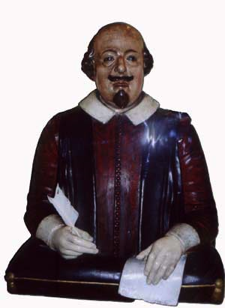 The Bust of Will Shaksper (1623)


It would also be both unfair and incorrect to call the "other" Shakespeare a fraud. The man who published under the name of WILLIAM SHAKESPEARE (or SHAKE-SPEARE) chose the name SHAKE-SPEARE as his pseudonym and nom de guerre in reverence to Pallas Athena, the bearer of the spear, the greek goddess of knowledge and art. It was out of question for an English aristocrat to publish poetry under his own name. (Consider John Seldon's statement from approximately 1630: "Tis ridiculous for a lord to print verses; 'tis well enough to make them to please himself, but to make them public is foolish.")
The works of Sir Thomas Wyatt, Henry Howard Earl of Surrey, Thomas Lord Vaux, Sir Philip Sidney, Sir Fulke Greville and Sir Walter Raleigh were only in circulation as manuscripts during their lifetimes and were published posthumously. (Thomas Sackville, Lord Buckhurst used a pseudonym.) The Lord Great Chamberlain couldn't reveal himself as being an author, and certainly not the author of a play wherein the character Polonius was obviously based on Lord Burghley, Queen Elizabeth's chief advisor.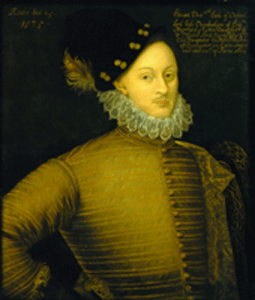 "Welbeck portrait" of the 17th Earl of Oxford (1575)


At the court of the drama enthusiast Queen Elizabeth, it was well known that Edward de Vere wrote poems and plays: his plays were performed at court. William Webbe wrote in his Discourse on English Poetry (1586): "I may not omit the deserved commendations of many honourable and noble Lords and Gentlemen in Her Majesty's Court, which, in the rare devices of poetry, have been and yet are most skilful; among whom the right honourable Earl of Oxford may challenge to himself the title of most excellent among the rest."
Francis Meres named Oxford in his Palladis Tamia (1598) as one of "the best in comedy amongst us".

Edward de Vere alias William Shake-speare didn't intend to hide behind a pseudonym for all eternity, however, after his death he was robbed of his name for a second time. An unauthorised publication of the Sonnets, (Published under the name of William Shake-speare) that revealed so much about about a three way amour fou involving Edward de Vere, his wife (the dark lady) and a fair youth gave cause to doubt the legitimacy of Oxford's son and as such caused great consternation among Oxford's surviving relatives. Another person had to be found to take over the name "William Shake-speare".